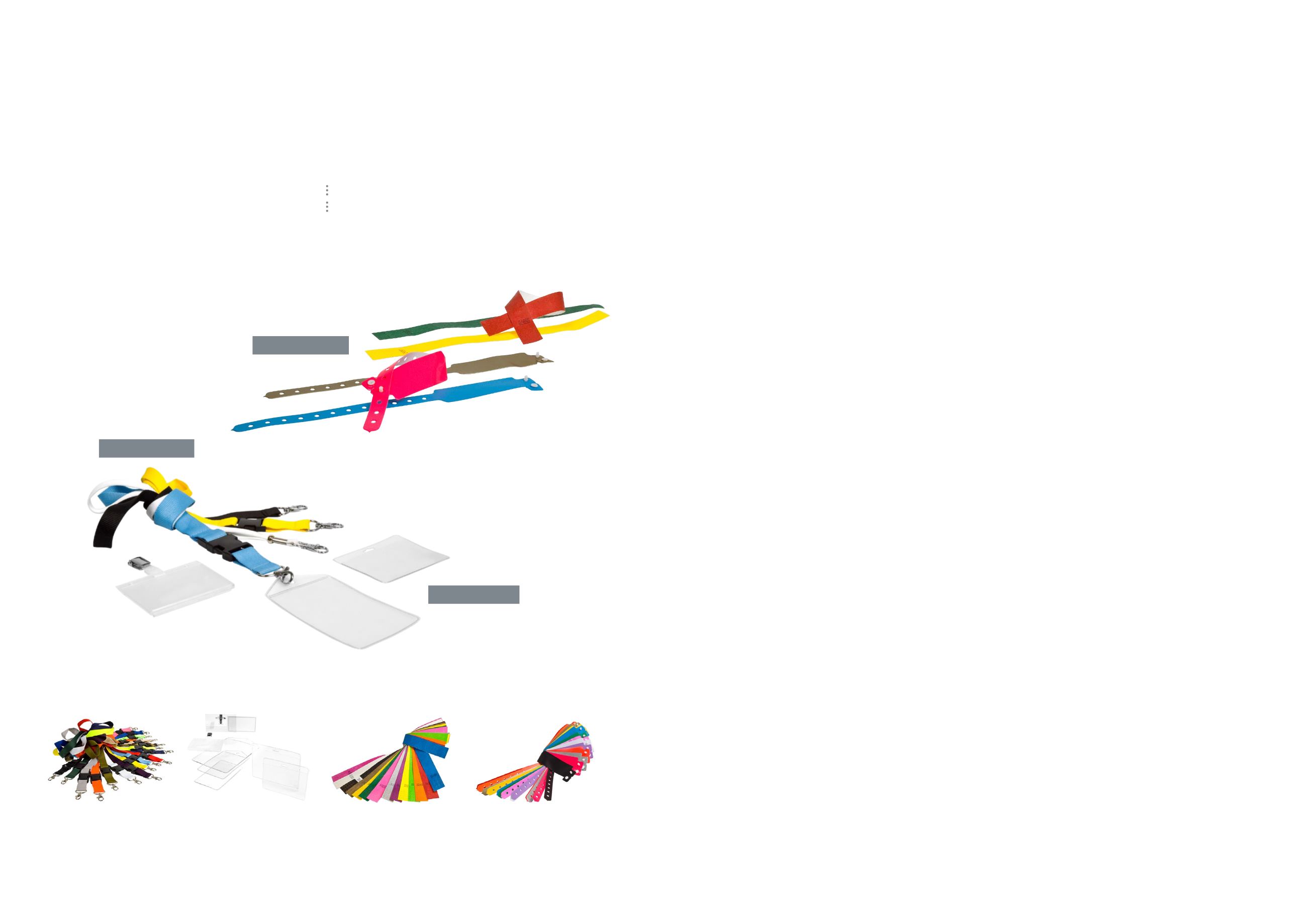 Neutral ID sleeves
Neutral Tybands® (paper)
Neutral Tybands® (PVC)
Neutral Goods for the Spur of the Moment
Neutral Lanyards
Neutral Tybands®
Neutral ID Cards
Neutral lanyards (20 mm)
Clip-lock plastic (black)
Sec-lock (polished silver)
With Safety Break-Away
Safety Break-Away (black)
MinimumQuantity Delivery Time
Product Configurator
We always have a large selection of unprinted key straps, ID sleeves andwristbands in stock. Simply choose
the items you want, and upon request we can send them off the same day.
Developments of recent years, and the almost limitless number of advertising materials that have
thus come into circulation, have shown that it is no longer enough to simply append your logo to a
standard product. What is important is that a product lifts you up out of the ocean of advertising
and creates sustainability by means of individuality and the product's association with the compa-
ny, brand and target group.
As your agencywe produce customised advertisingmaterials, andwe strive daily to supply youwith
more than just facelessmass products. We support you actively in thedevelopment of the items you
require. Our emphasis lies in all-round advice, customised production, and cost-efficient acquisition
Customised Products
We offer custom production in which you can control all details no matter how small, so that your
promotional itemwill be genuinely unique.
High Quality
We can offer you our products in compliance with defined standards, since top quality is our top
priority. Our entire production and supply process is strictly monitored so that we can provide you
with the best possible quality. If requiredwe can have your production runs certified by internation-
al testing institutions in compliance with DIN, EN and US standards.
High Ethical Standards
All of our production facilities are checked regularly in depth, which helps us to guarantee you that
all of the legal standards are met, your products are made under fair conditions, and child labour is
Attractive Prices
Bringing together numerous production runs at a fewcarefully selected and continuously optimised
production facilitiesmeans you enjoy lowermaterial, production and import costs. This allows us to
offer you extremely attractive prices.
Fast Delivery Time
All of our products are imported by airfreight as standard. If you are able to place your order in
enough time, we will gladly provide you with an alternative quotation that includes sea freight so
that you can enjoy the cost benefits.
Special Service
Our young anddynamic team looks aftermore than10,000 customers throughout theworld. Profes-
sionalism, high-quality and sustainable advice, quick quotations, immediate samples, free visualis-
ations and smooth logistics are all part of our daily service.